I started the year off  with a twinge of guilt, looking back at what I had accomplished in 2018. Part of that guilt came from fixating on what I had written down as goals in the blog versus all those other projects keeping me busy that I had never bothered to write about. Mainly, my day job, which is mostly kept separate from my blog life.  My day job keeps me busy. It provides me with a secure form of income, social connections, stimulating projects. My blog, although creatively stimulating, does not provide me with an income. That is partly of my own choosing, when I realized the amount of work it would take to monetize the blog. For now at least, I do not get paid for the hours I put into writing each post.
For now I am content with considering my blog as an enjoyable past-time, rather than a serious side hustle.
At least, that's what I tell myself, on the surface. It's so much easier that way. When I view my blog as an enjoyable past-time over a serious side hustle, I remove any trace of personal responsibility to improve it. I take away those feelings of guilt that come after me for not following through on my promises: of blogging consistently, publishing more patterns, and creating tutorials.
Gretchen Rubin wrote a book called 'The Four Tendencies' on how understanding how you respond to expectations can help you form long lasting, healthy habits. Full disclosure: I've never actually read this book, but I listened to her talk about it on a podcast over a year ago. I revisited it following my latest struggles with reaching my personal goals.
Here's a short description of each of the Four Tendencies (you can take this quiz to gain more insight into your main tendency):
"Upholders" are able to respond well to both personal expectations and other's expectations of them.
"Questioners" tend to question all expectations, both personal and other. If someone asks them to do something, and they don't understand why, they're less likely to do it.
"Obligers" are able to respond well to other's expectations, but have difficulty responding well to their inner expectations. (me in a nutshell!)
"Rebels" resist all expectations, both personal and other.
All of us bear some resemblance to one, or more, of the tendencies described above. Through my work, there is a clearly defined structure where I am accountable to different people: co-workers, supervisors, clients. Some of my biggest pet peeves involve, in some way or another, letting others down (being late, missing deadlines, etc.). But with my personal goals, I am accountable to no one. I procrastinate, and make excuses. I devote more energy to my day job. Then, I guilt myself on my failure to put more time and effort into my creative aspirations. Guilt is a form of anxiety. Deepak Chopra describes anxiety as a form of unproductive imagination:
"There are only two things we can put our imagination to: one is anxiety, which is a form of imagination, and one is creativity. And we have to choose creativity in order to transform the world."
It's a vicious cycle. So how does an obliger choose creativity over anxiety?
This year, I signed up for a paid running clinic. There were free alternatives, but seeing as no one was expecting me to go to the free ones, I never did. I had to sign up for the paid clinic in order to leave the comforts of my home on a snowy and dark Vancouver evening to go for a run. That was almost a month ago. Since then, I've been running three times a week, snowy dark nights and all. It's the most consistent run training I've done in years. I should mention that I'm not someone who hates running – I love it. I love the feeling of euphoria I get mid-way through a race, I love sprinting to the finish line, I love the long slow jogs on the seawall.
Now, for the knitting. I've started a knit night in Vancouver. First one is tonight.
Sewing-wise, I've signed up for a reverse pattern drafting class next month. I've also been eyeing up a whole bunch of gorgeous patterns (both knit and sewn) that I mentioned in an Instagram post using the hashtag  
#makenine2019 .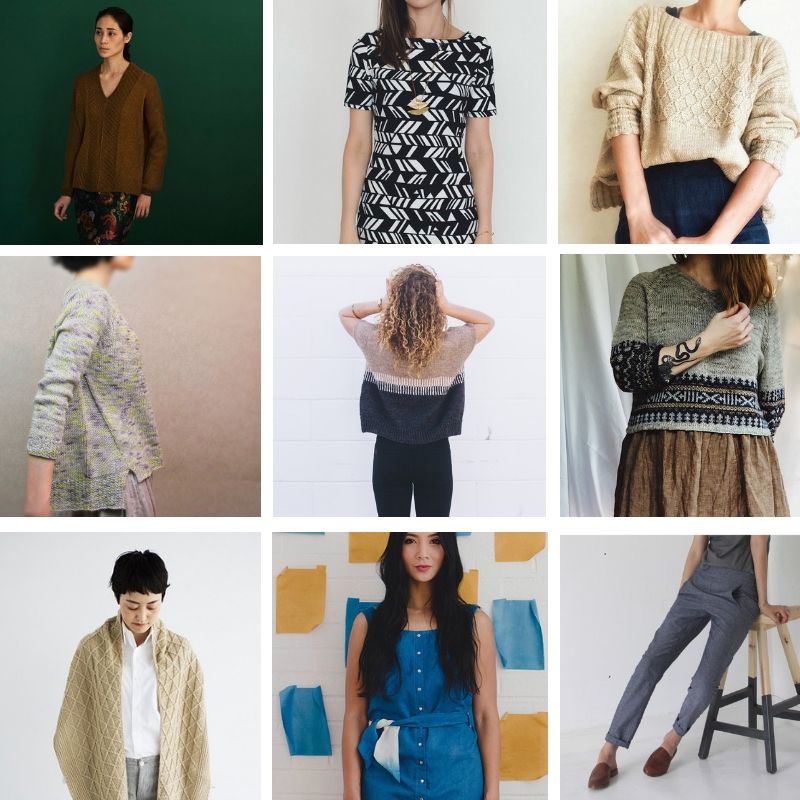 From left to right, top to bottom:
1. #strophesweater by @knitburo, 2. #mesadress by @seamworkmag, 3. #oldies_sweater by @kouvive , 4. #ssanda_pattern by @nonnontsn , 5. #fukuropullover by @whit_knits, 6. #nordiskasweater by @boylandknitworks, 7. #voidshawl by @mairlynd , 8. #adelaidedress by @seamworkmag , 9. #thecalyerpants by @frenchnavynow
I especially love this combo (shown below) of the Calyer Pants by French Navy Now.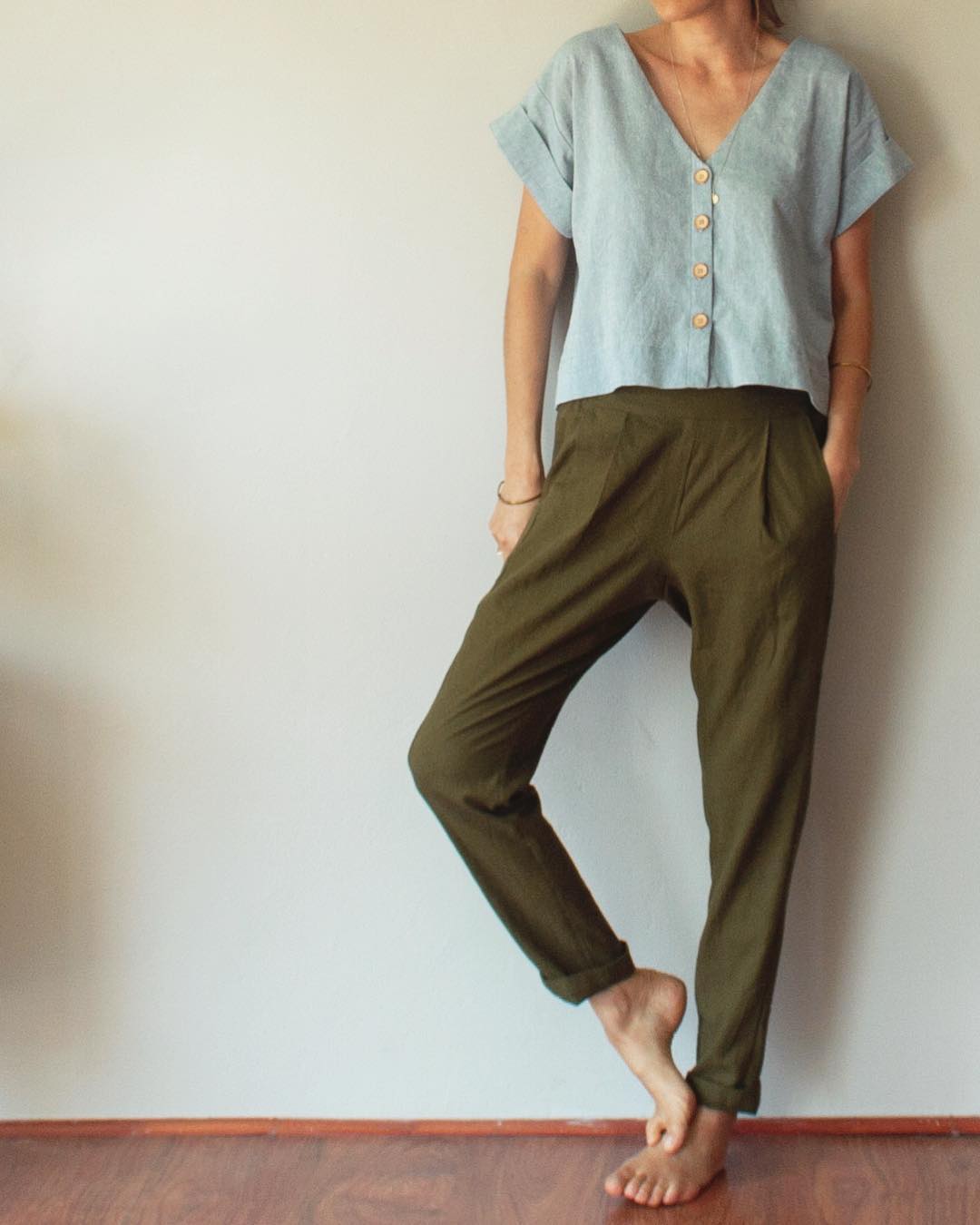 More action is needed on setting up my other personal goals of knitwear design and writing so that I am accountable to outsiders, rather than just myself. It's reassuring to realize that there are many, many obligers in this world who share the same struggles of meeting their new year's resolutions. 😉
Link Love
In other news, these links have been keeping me inspired: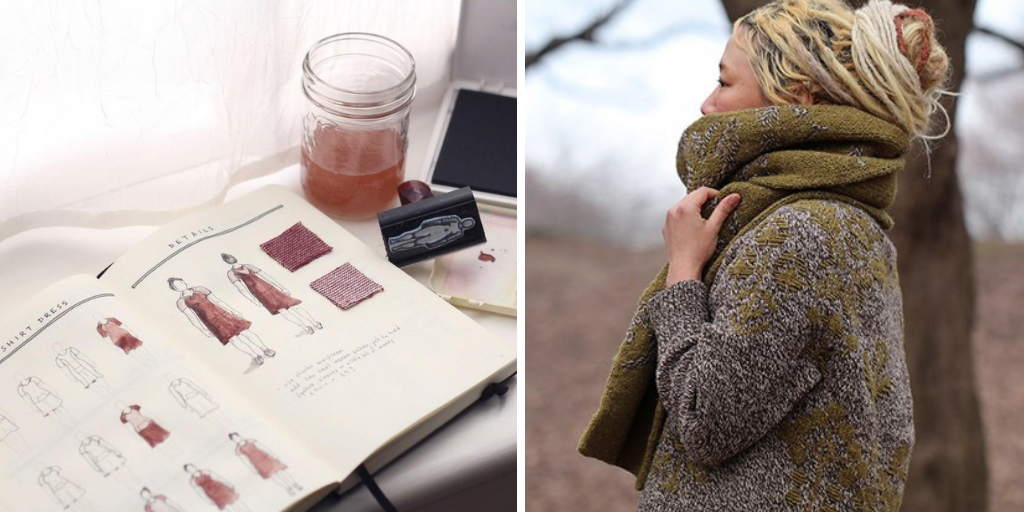 Which one of the four tendencies are you? What have you been inspired by lately? I'd love to hear your thoughts in the comments below!