It's that time of the year again. With just over a week left in 2018, now is the perfect time to look back and reflect on the past year, and make a few resolutions for the one ahead. I first started writing these 'Year in Review' posts shortly after returning from my year of travelling in 2016 (you can read the full post here). Since then, I've found it helpful to reflect and summarize my year into one post, as well as lay out my plans for the year ahead. It also provides me with a wonderful incentive to follow through on my resolutions, when I post about them publicly. 😉
Bear with me, as this post goes into lengthy detail on my lessons learned from 2018, and also ties into my plan for for 2019. It is likely best enjoyed when you have the time to sip a tea or coffee while lounging in front of a fireplace rather than during a short commute on your way to work.
Spoiler alert! I performed dismally on my resolutions of 2018. My hope is that by speaking out about these 'failures' I will:
Choose more realistic and attainable resolutions for 2019,
Have added motivation to follow through on my goals knowing that I will have to publicly admit to my failure again next year.
Add to the bigger conversation in the blogosphere on how failures are a necessary part of growth.
With that being said, here is the more difficult part of this post (the part I would rather just glaze over), where I discuss how I didn't meet the goals that I set for myself last year. Rather than going into each one in detail, I am going to only focus on the goals with shareable learnings. If you want to take a look at all of my original 2017 goals, you can find them by scrolling to the end of this post.
Let's begin!

I'll admit it. This goal was a bit disappointing for me, as I really did want to add more designs into my knitting portfolio in 2018! The reason I didn't make this goal was quite simple: I didn't make the time for it. I did end up sketching a few design ideas in my notebook, that I would love to turn into something in 2019 (but no promises 😉 ). I can also be a bit of a perfectionist if I am planning on releasing a pattern. For example, while designing the Annapurla hat pattern last year, I became frustrated with the final product and almost didn't end up publishing it (although I am very happy I did!). I find it much easier to just design something only for myself, than designing for others.

I started 2018 out with the goal of consistently posting a minimum of once every two weeks. Although I did start out fairly strong, posting more frequently, once, even twice a week, I wasn't consistent. As my work schedule changed, so did my blogging schedule. These past few months, I've been struggling to keep up with just one post a month. I think the most important lesson I learned from this, is that this blog is above all else, a creative outlet for myself (I think this same lesson can be applied to the knitwear design). Whenever I find myself feeling that 'I need to' write a post or design a hat, I become stressed, and this takes away some of the joy I normally get from knitting and writing. So although overall, I blogged much less frequently this year than I did last year, I'm still happy with the outcome, in the sense that each and every post that I wrote brought me joy. To highlight a few, some of my favorites were:
It's also interesting to note that although I published less than half the amount of posts in 2017, even still I managed to increase the number of visitors to my site by 20% (in all, I had 125,000 visitors this year over 106,500 visitors in 2017). That may be less due to my own work and more due to Google and Pinterest search algorithms, but who am I to judge?
Onto the next goal …

This goal started in November of 2017, when I first heard about the insane writing competition called Nanowrimo, which involves writing a novel (which is considered to consist of a minimum of 50,000 words) in just one month. In November of 2017, I managed to write about 20,000 words. It wasn't nearly enough for a novel, but it was still enough to give me a sense of achievement and motivate me to keep going! Because of this, I decided to set myself another goal: that I would complete the 50,000 words by the end of January of 2018, which I did! It was an amazing feeling. Still, it was a learning experience, as I realized that similar to the previous two goals, I tend to notice the flaws only when I begin to think about the others that will read the pages (or knit the pattern).

I may be guilty of tweaking this goal slightly so it comes out as a win … Truth be told, I really wanted to compete in a major trail race this year, one that would require serious training. I had my eyes on Seek the Peak, which is a 13 km race with 1,400 m of elevation, up the infamous Grouse Grind in North Vancouver. I'm sure this story is all too familiar to most of us out there: I started out strong in the first couple of months, training regularly and competed in a couple of smaller trail races around Vancouver, before falling off track in the summertime, and that was that.
2018 Goal Recap
What Went Wrong
Okay, so I had a bunch of goals, most of them were fairly ambitious, and they were for completely different things (i.e. knitwear design, trail races and writing a novel do not exactly align). So is it any surprise that I didn't meet my 2018 goals? Maybe not. Also, it probably didn't help that I started off by thinking of the big 'end goals' rather than the easy 'baby steps' that I could build momentum with.
Another piece of learning that has come out of these reflections is the shift that occurs whenever I plan on creating something for 'someone else' rather than 'just myself'. Although on the one hand this shift motivates me to create a better end-product, it also tends to bring out my 'perfectionist' attributes, which discourage me from wanting to actually release or display whatever it is that I am working on. In 2019, I plan on releasing more creative works (be it in the form of knitwear design or written words), so that I work on silencing my inner critic.
What Went Right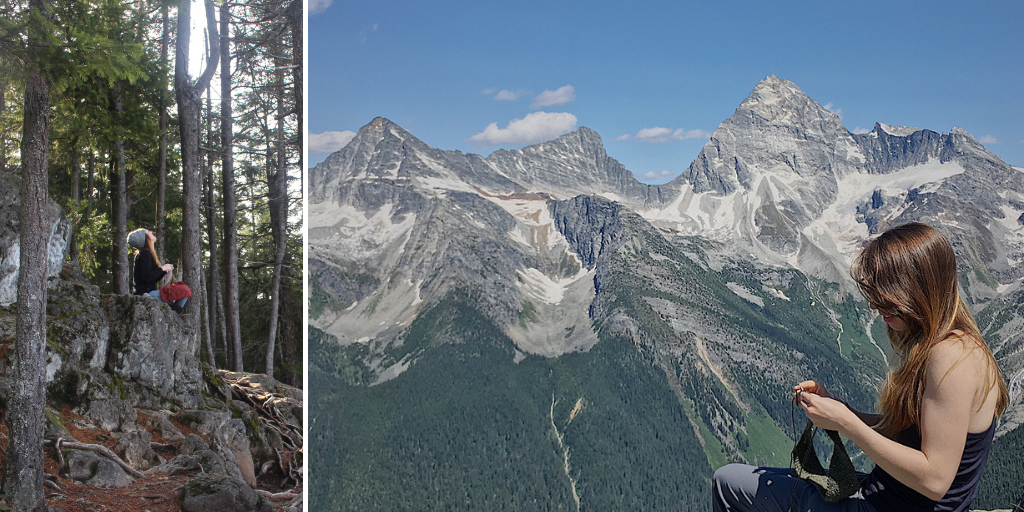 Overall, I had an incredible year. Getting settled into a new city isn't always easy, but Vancouver is starting to grow on me. 🙂 Creative highlights of 2018 include:
Playing  volleyball while watching the sun set over the ocean at Kits beach.
Finishing my first 'selfish' sweater pattern (shown below, the Tegna)
Sewing and learning from my mistakes while working on the Victoria Blazer
Knitting in nature, anywhere and everywhere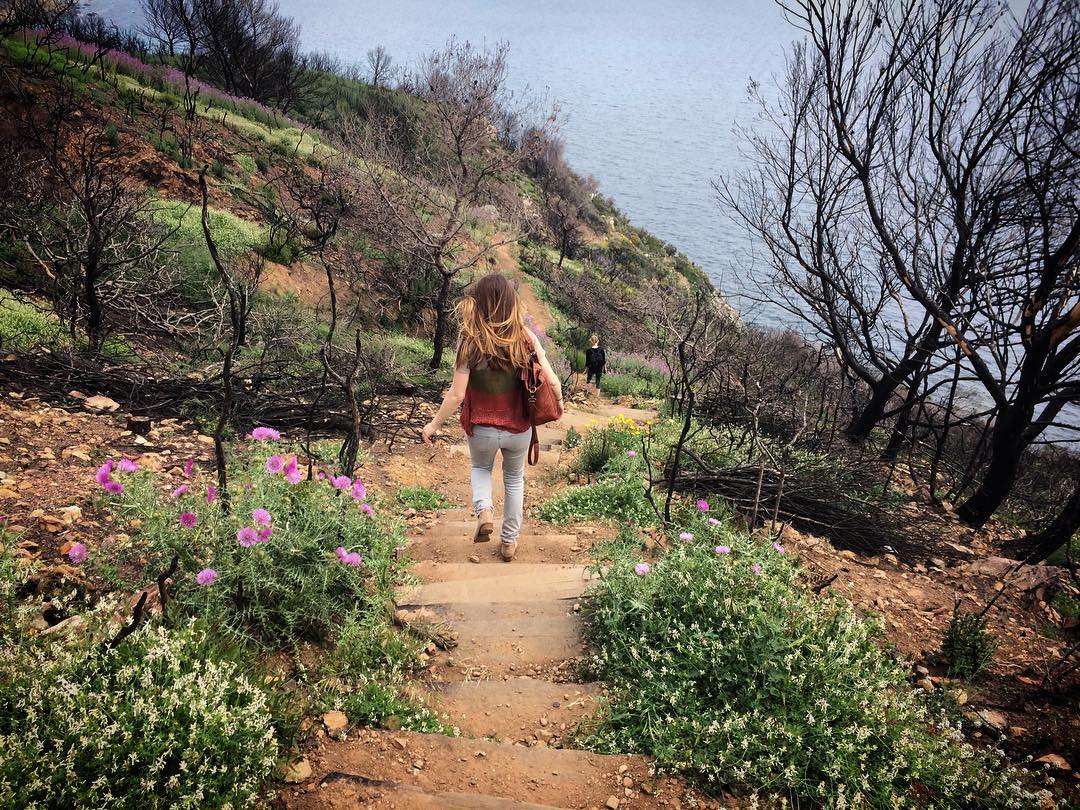 2019 Goals
With all of that said, what should I be doing, looking for, and achieving in 2019? I was lucky enough to see Benjamin Zander give a talk recently in Vancouver about the art of possibility. His energy and zest blew me away. It also changed the way I think about goal setting.
By fixating on certain goals, there is a chance we are closing ourselves off to other possibilities, opportunities that we might not even know exist yet (the unknown unknowns). Some of us might find it comforting to stay firmly locked onto our 'known' goals, as they provide us with reassurance that we are headed in the right direction. However, after some time, we may find that some of the goals that we originally set no longer feel 'right', or that they become a source of stress and frustration (like they did for me when I thought about writing this post and telling all of you how I didn't meet 90% of the goals I set for myself in 2018 … ). On the other hand, if we allow ourselves to be flexible with our goals and can accept when certain goals need to be changed or prioritized over others, depending on where we are in our lives, there are no limits to what we can achieve. As I put together my resolutions for 2019, I kept these thoughts in mind, with the aim of coming up with goals that would align myself in a certain direction, but that also wouldn't restrict me in different ways. Here are just a few of the goals I have set for myself in 2019:
Release creative works.
I kept the wording of this goal flexible, because I didn't want to prioritize writing over knitwear design, and vice versa. The purpose is to focus on the simple act of creating something new and sharing it with the world. Vague, perhaps, but I'm both curious and excited to see what 2019 will bring in the way of creativity.
Knit in nature at every possible opportunity.
Because it brings me joy. 🙂
Establish a daily writing practice.
I did this fairly well for most of the year, falling a bit off track these past few months. This is definitely something I want to keep as a priority in 2019.
Learn to reverse pattern draft.
Last year, I was humming and hawing over  which course to take at the Maiwa School of Textiles workshop line up. When I finally did make up my mind, the course I had set my eyes on was sold out! I'm please to say that this year, I managed to snag the very last spot in the 'Learn to Reverse Pattern Draft' course while writing this post, and I am taking this as a sign that I was meant to take this course. 😉 For those of you who are asking yourselves what reverse pattern drafting is, the simple answer is creating a sewing pattern from existing clothes. This is something that I've been wanting to learn for ages …
Create and display a yarnbomb. Can you believe that I've written a post about yarnbombing (and featured a guest post from yarnbomber extraordinaire Rock Vandals) but still have yet to create a yarnbomb of my very own? Keep your eyes posted, because 2019 is the year it's finally going to happen …
Do you like to set goals (i.e. resolutions) for yourself each year?  I would love to hear your thoughts on this post and any goal setting tips and tricks you may have in the comments!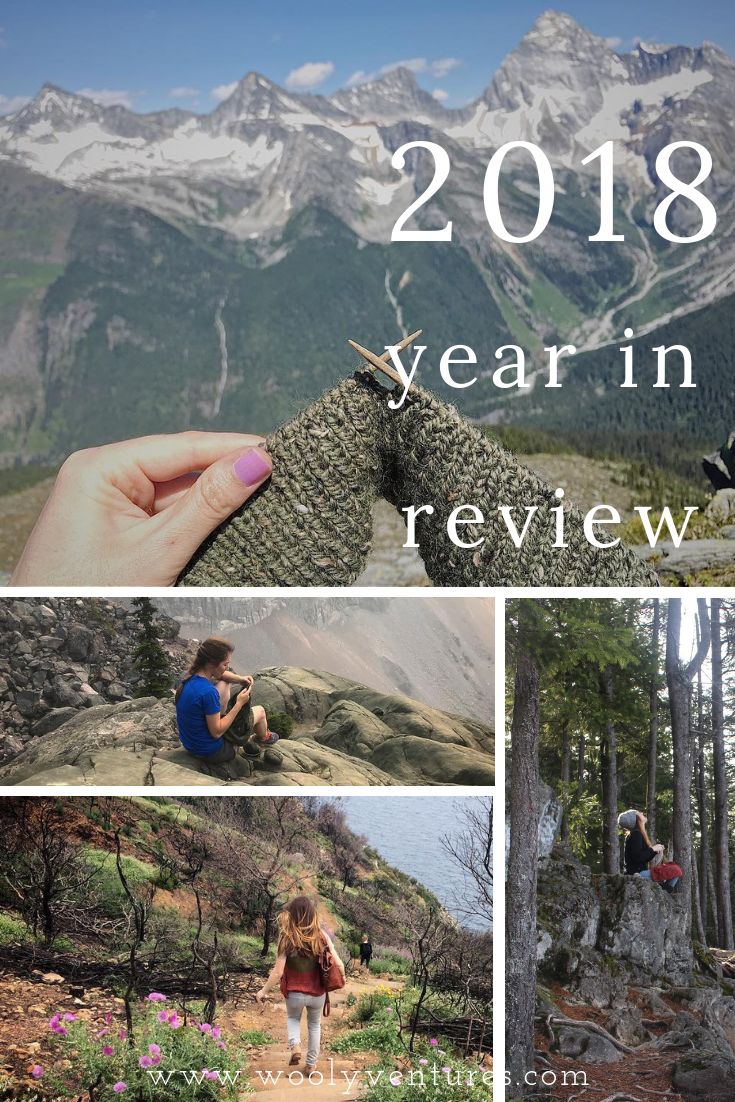 If you enjoyed this post, please add the above pin to Pinterest so others can enjoy it as well.