Over these past few years, my knitting stash has been ever so slowly dwindling. Except for one occasion visiting a cute little knitting shop in Northern Quebec (Flore-Abel) where I splurged on some lovely speckled locally-dyed yarn, I have resisted all temptation to add more yarn to the stash. Instead, I've been using up my existing stash to knit up an assortment of items: hats, socks and sweaters, until I get my stash to a more acceptable level.
Although an "acceptable stash level" is a subjective term, individual to each stash owner, I consider this to be when I can reasonably fit my entire stash into a single Rubbermaid (at the moment, I have several bins filled to the brim with yarn).
I once tried to catalogue each ball of yarn in my stash, to keep better track of what I have, but became so overwhelmed that I put this project to the side (although watch for it, the topic of how to breathe life into an old yarn stash may be featured in an upcoming post).
Although I've succeeded at resisting the temptation of buying yarn, things have not fared so well with fabric. My fabric stash has now grown from four to five fabrics in my stash, to well over twenty fabrics in the past year alone. To add to this dilemma, I have not sewn a single piece of clothing since last year, and only two pieces in the last two years. To help get over this sewing dry spell, I've created a list of items I plan on making with the existing stash. There are five patterns in total, each of them are in the beginner to intermediate range, with some helpful sew-a-longs for the more complicated pieces (hello, Olya).
Milo Cardigan by Seamwork
I would love to sew up a cozy cardigan for fall, and bought some knit fabric from Blackbird, a lightweight melange sweater knit in navy blue, that would work perfectly for this. The pattern offers a longer and shorter version. I'm leaning towards knitting a longer version, similar to the look by @so.smartly on the left.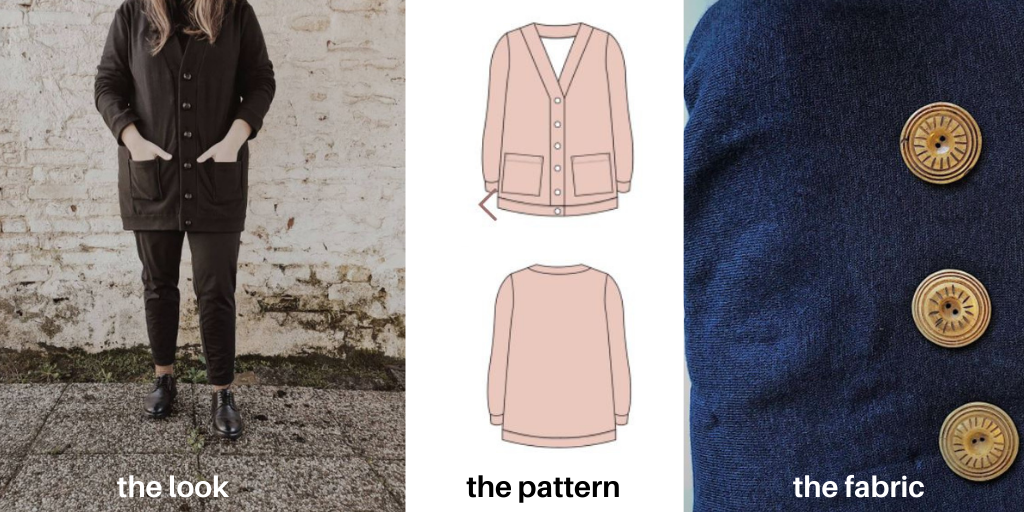 Gilbert top by Helen's Closet
I'm somewhat obsessed with the Gilbert top pattern by Helen's Closet, there are simply so many beautiful versions of it floating around Instagram. Some of my favorite versions are by @smlennox (featured below) and @thesocialfabric. Their uses of a double gauze cotton fabric are very appealing - it seems to pair so well with the pattern. I purchased a more structured ikat woven cotton from Blackbird Fabrics that may give the finished product a more structured look. I want to make several versions of this pattern, also using a brick linen.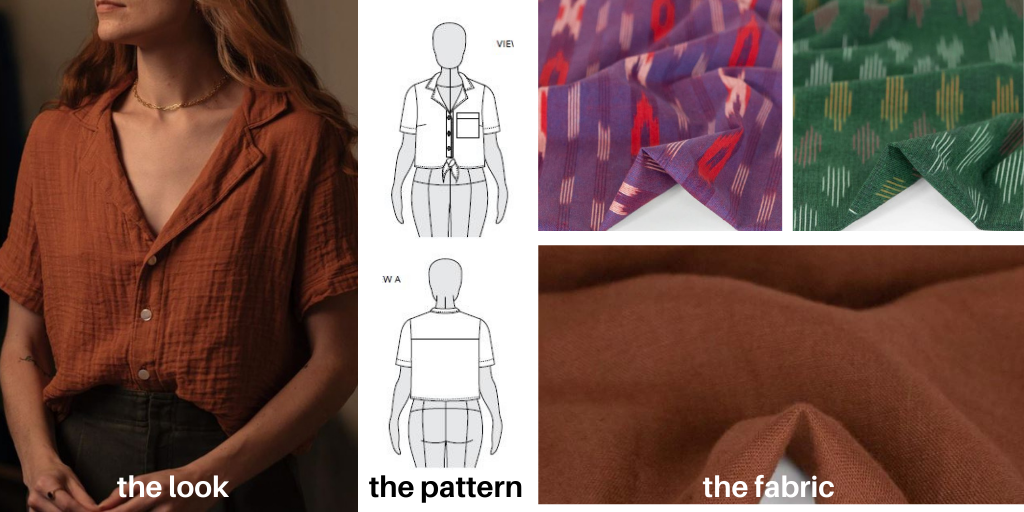 Vetiver Top by French Navy Patterns
The Vetiver Top is a recent release for a short-sleeved blouse, designed by French Navy Patterns, a small indie pattern design company based in South Africa. The pattern offers two hem options: a ruffled hem that pairs well with high-waisted pants, or a standard hem. They recommend using light to medium weight woven fabrics. I have a pretty textured cotton-linen black jacquard I purchased a while ago from Blackbird Fabrics but never used, that could work well for this. Alternatively, I have a white silky linen and viscose that could offer more drapiness, or switch it up with any of the fabrics shown for the Gilbert top above.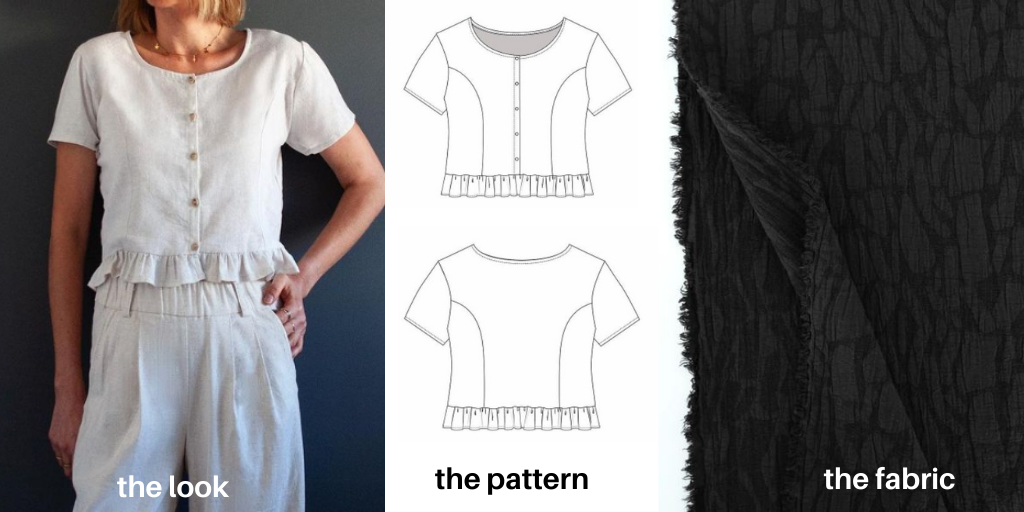 Olya shirt by Paper Theory
I purchased a gorgeous deadstock Italian linen fabric without much of a clue what to sew with it. Nisan of the Social Fabric posted about how much she loves the pattern, and linked to a wonderful step-by-step sewalong by Paper Theory, that I feel compelled to try it with my checkered linen.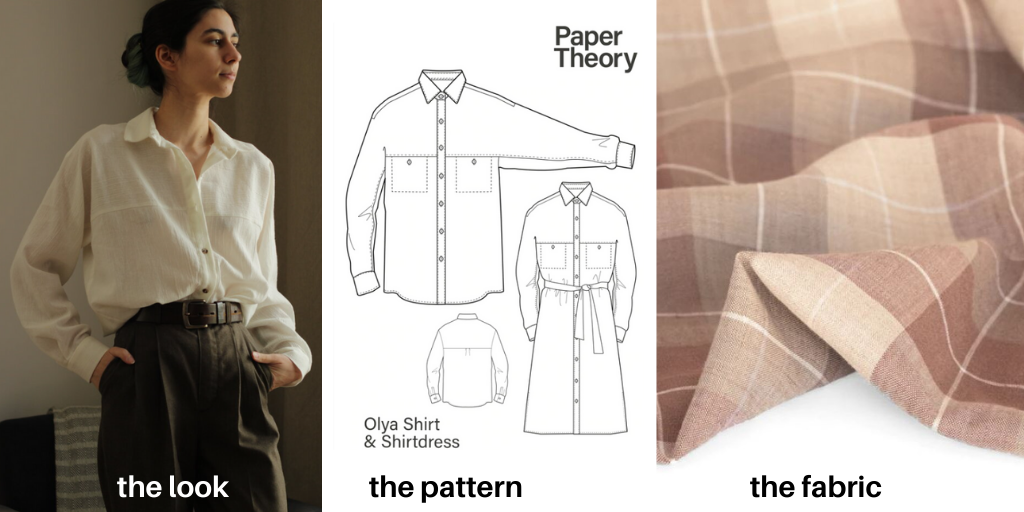 Winslow Culotte Tie Wraps Hack by Helen's Closet
I bought some drapey Tencel Twill in a solid deep purple from Blackbird Fabrics without any idea what I would make with it (a common theme is emerging). The Winslow Culotte with the tie wraps hack looks like it would pair perfectly well for some loose-fitting pants that can be dressed up or down.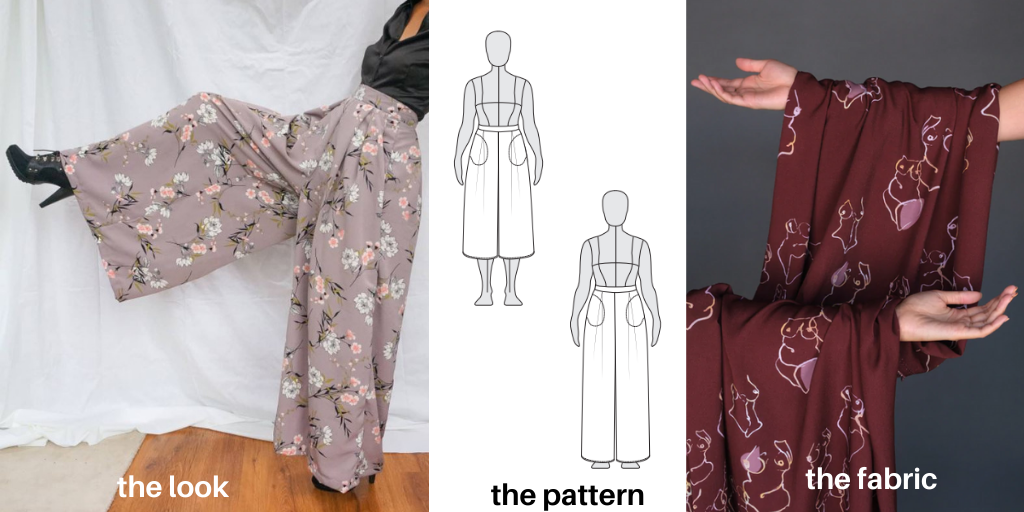 Patina blouse by Friday Pattern Co.
The Patina blouse bears some similarities to the Gilbert top featured earlier, but I really like the interesting collar shape and poufy long sleeves. This would make a perfect floral friday shirt. There is a stunning floral fabric designed by @melissalowrydesign featured below, but instead I'll go with an EcoVero viscose fabric from Blackbird Fabrics.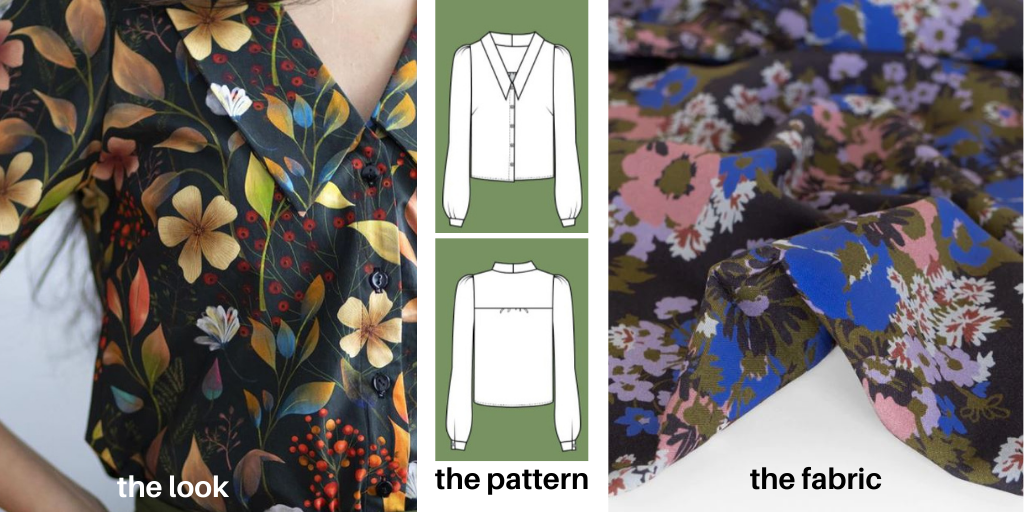 Working from home these past two  years has given me zero need to revamp my wardrobe, and my clothes are beginning to fall apart, reminiscent of my year-long backpacking trip where my clothes were subject to some serious hardship. Gazing at all these gorgeous patterns alongside my incredible fabric stash is giving me some much needed motivation to plan out a summer wardrobe. With Fashion Revolution Week starting this week, there is no better time to start than the present.