After spending almost seven years blogging with Wordpress, I've decided to transition to a new platform called Ghost. This post outlines my main reasons for this transition.
Let's start with a bit of history.
When I first started blogging under Wooly Ventures, in 2015, my website was a subdomain of wordpress, https://woolyventures.wordpress.com/. I was a blogging newbie, and this option allowed me to experiment with blogging at no investment (as using a subdomain is free). From July to December 2015, I published a total of 15 blog posts. But I wanted my blog to look and feel more official. When I left for a year of travel in 2016, I upgraded to purchasing my own domain, at www.woolyventures.com.
The costs of using Bluehost for hosting
I had looked at a few options, and Bluehost seemed to make the most sense. What's more, it seemed affordable, as they generally offer special rebates and offers, the first couple years of signing up (hence the blip in 2016). However, the prices dramatically increased from 2017 onwards. In total, I've spent $1,191 USD in hosting and domain protection fees since 2015, an average cost of $170 USD per year.
Side note: Before landing on Wooly Ventures as a blog name, I purchased olivesandalpacas.com as my primary domain. As Wooly Ventures is hosted under Olives and Alpacas, I paid an extra of ~$25 USD annually in domain privacy protection fees (included in the costs shown below), than if I would have purchased www.woolyventures.com as the sole site. I also unknowingly upgraded my account to include more than one domain name, resulting in higher costs than needed to maintain Wooly Ventures.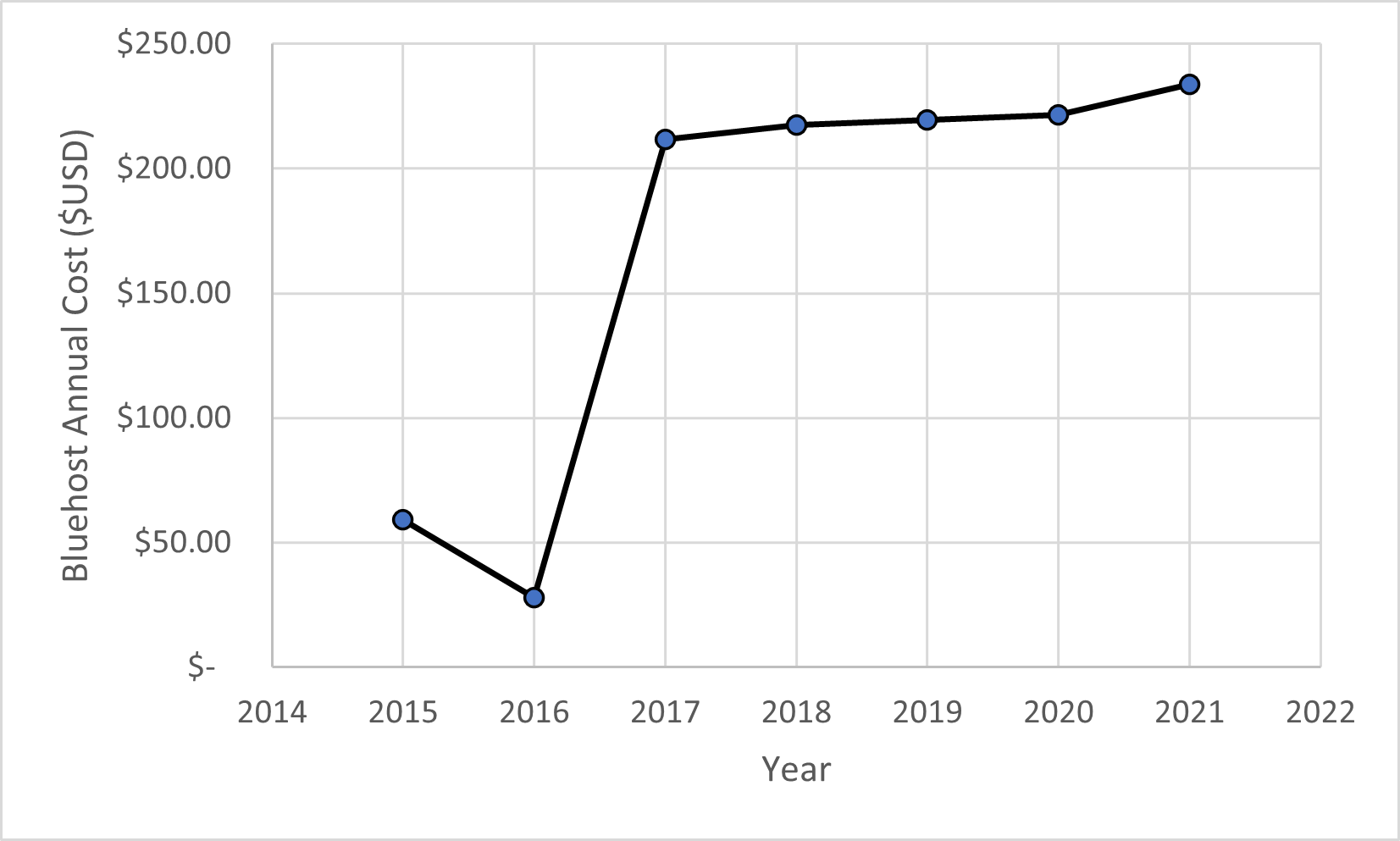 Invested time in Wooly Ventures
Over the course of my travels in 2016, I spent a lot of time to improve the look of Wooly Ventures, and to attract an audience. This included:
Starting a newsletter using Mailchimp that grew from about 4 friends and family, to 515 subscribers (now at over 1,400 subscribers) .
Designing a logo using open-source software (Inkscape).
Learning how to apply custom CSS code to nclude social media links and customized colors and fonts.
Applying Search Engine Optimization (SEO) tools to improve each post's rankings in Google Search (successes include top rankings for "best knitting patterns instagram", "trekking cameron highlands")
Leveraging Pinterest to help certain blog posts go viral (this was the number one way I attracted new subscribers!). Melyssa Griffin's blog posts were a huge help in learning how to do this.
That said, since returning home to Canada in 2017, my blog has been entering a long and painful decline. I haven't put the adequate time and resources into creating new content to keep things interesting. Because of this lack of invested time, it's painful to continue to invest so much $$ just to keep things running. Hence why I've been looking into cheaper alternatives for hosting, and landed on Ghost.
This post isn't an all-inclusive list of the pros/cons between using Wordpress versus Ghost for blogging (there are plenty of other posts with that information already). Instead, I'll list a few of the main reasons Ghost caught my eye.
Reasons I chose Ghost
They're a non-profit organization and their software is open-source (meaning that I can eventually transition to lower-cost options with self-hosting, once I'm more confident with programming and web development).
They integrate membership, subscription and newsletter options into their platform. In comparison, Wordpress relies on third-parties to provide these tools in add-ons. There is typically a fee for each tool, and these costs can continue to add up over time, on top of the base price for hosting.
Their templates have a clean, minimalist feel that I like.
They publish all company metrics and value transparency (when evaluating options, I prefer giving business to companies that share similar values).
Over the longer-term, I feel that Ghost will be a better fit to host Wooly Ventures. In the short-term, it will cost me an expected average of $108 USD per year to go with their Starter Ghost Pro hosting option (compared to the ~$170 USD I am currently paying with Bluehost). Over the longer-term, I expect to have additional savings if I take advantage of their membership / subscriber options as I develop more content.
April 17 2022, Update: Since transferring to Ghost, I've had to complete a couple of additional steps that I  hadn't realized when starting the transition.
Ghost is not a domain registrar, so I needed choose an alternative provider to register my domain name. I'm currently using Namecheap, but looking at switching to Cloudflare as they seem to be an overall better option.
I also needed to find an email hosting provider to continue to use my hello@woolyventures.com account, as this is not available with the Ghost Pro platform.
There you have it! A quick overview of my main reasons for this transition. Wooly Ventures is currently sitting at a total of 156 published blog posts, and there is some behind-the-scenes work for a smooth transition over to a new platform. If you experience any hiccups or blips on the site over these next few months, please be patient and know that I am working to fix things!  As always, feel free to send your thoughts, comments or suggestions over to hello@woolyventures.com.