Of course, we all know that every season is knitting season for some of us, but I would still argue that there is a certain time of the year where knitting brings more enjoyment, comfort and coziness than other times:
When the days start to get shorter …
The nights start to get cooler …
And you crave for that extra bit of warmth that can only be found in a handknit garment.
I ended up taking a break from the blog for most of the summer (and spring). In some ways, I had been pressuring myself with the blog to create more than I felt capable of achieving. Without realizing it, I had been comparing myself to others. I felt a sense of failure that I wasn't able to keep up with the other makers in this space with my minimal output of handmade garments. So in some ways, it was a relief to step away from it all and to not feel a need to post about what I was working on. To make purely for the sake of making (and if I wasn't making anything, that was okay too!).
There's a lot to catch you all up on. Since my last post six months ago, I've …
1 Traveled to Thailand for our friend's wedding (photos above).
2. Completed a pattern drafting course with Sheila Wong at Maiwa Studio on Granville Island. It made me appreciate the time and work that goes into drafting a pattern … which I still haven't finished. My cut-up knit blazer is still in storage (one day, one day).
3. Taken out my road bike for a spin (or two).
4. Joined a running clinic and ran a trail half marathon on Bowen Island (still sore)
5. Knit the Ripple Bralette by Jessie Mae (this designer has so many gorgeous yet simple knitting patterns, I'm already eyeing up a Ripple Crop Top to knit).
6. Started the Optic Blanket, got frustrated, then began the Colorful Wedges,  a perfect mindless knit for knitflixing as I worked my way through the latest seasons of Money Heist and  Cable Girls on Netflix  (I'm in love with Spanish shows and this way I convince myself that I'm doubling up on productivity by practicing Spanish and knitting something at the same time!).
7. Started and stopped sewing two projects in spandex fabric (leggings and a Mesa dress) after becoming frustrated with the stretch and other challenges.
8. Worked my way through most of Closet Case Pattern's "Learn to Sew Clothing" online course and sewed the Cielo top in a linen gauze woven fabric purchased from Blackbird Fabrics. Relished in how easy sewing woven fabric can feel compared to stretchy knits!
9. Starting reading up on Mending Matters by Katrina Rodabaugh, as I strategize how to mend my partner's clothes which are falling apart.
10. Hosted several knit nights (Facebook page here for future events)!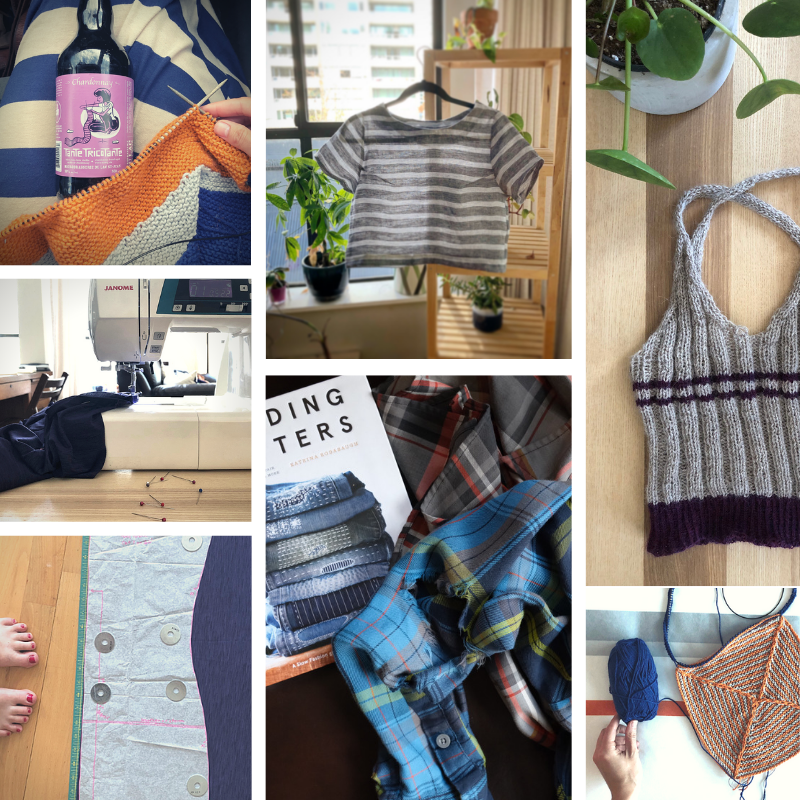 But now that knitting season is finally upon us (in my view, it will officially start September 23, the first day of fall), it's time to start planning. Finishing the Colorful Wedges if definitely my top priority, but once that is done, I have some beautiful worsted wool in my stash (a combination of Beaverslide and Custom Woolen Mills). I'd love to knit a cozy pullover and am thinking the Ondawa pattern by Michelle Wang may just be the perfect fall project! It's been on my to-knit list for ages (it was on my Sweater Bucket List from way back in 2016) …
What's on your fall knit list?